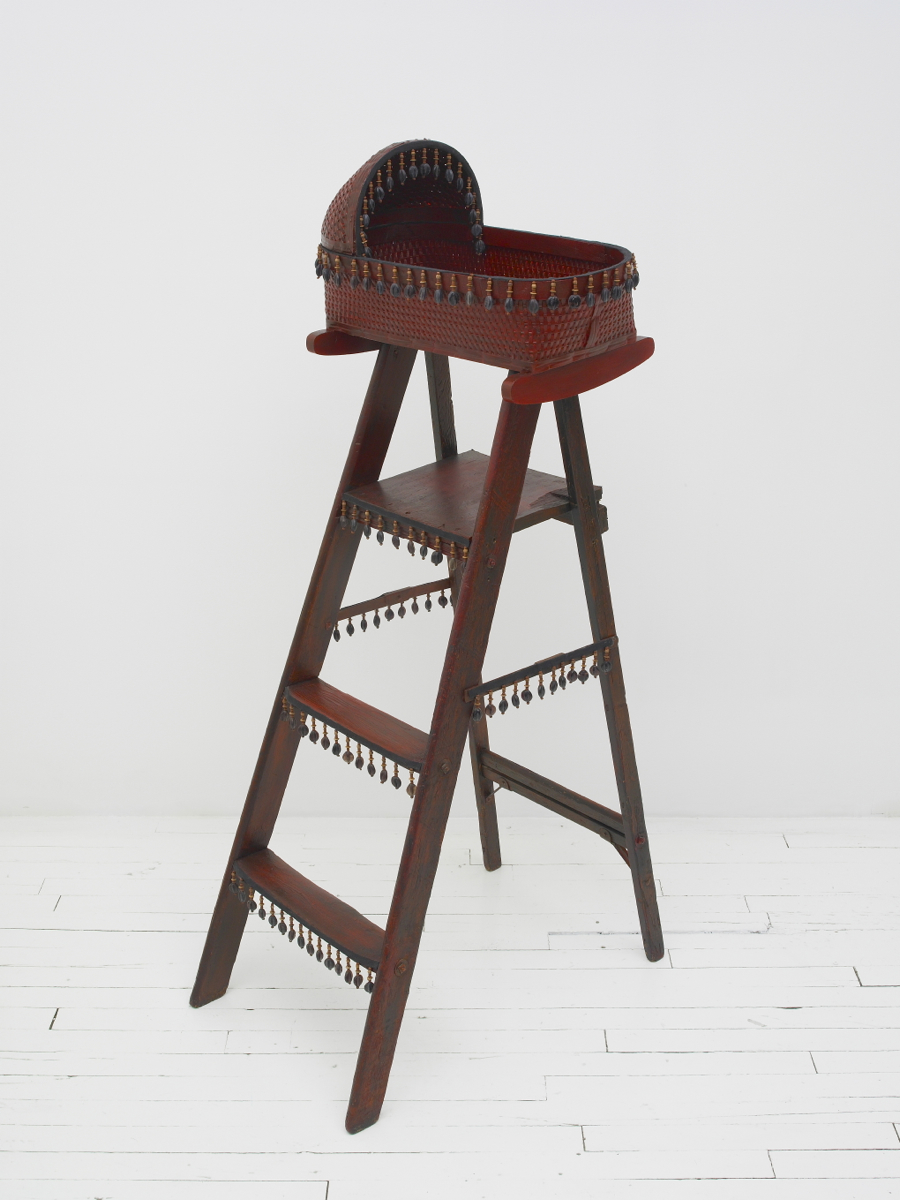 WHAT WAS LEFT
2008 - 2012, chandelier, metal chains, glass beads, metal, gold leaf, brass embroidered velvet curtain, 13' x 4' x 4'
This work looms at 13 feet is built upon a found elaborated gold leafed chandelier labored with a multitude of gold plated brass chains. Portrays the excessiveness of colonialism which has led to our currant situation with the world bank. Conflict is found in many areas that were once colonized or controlled by Europeans for their natural resources. The source of many of these conflicts, lies in past colonial policies, the treatment of indigenous populations, and the privileging of some groups over others.
A CHARMED LIFE
2008 - 2012, Frescoes, chair, alabaster beads, glass beads,
amulets, chains, brocade 7' L x 7' W x 4' H

Symbolic objects imbued with spirituality, idolatry and power including gold, beads, jewels, medals, stones, altars and offerings are pervasive though out Esperanza Cortes' sculptures. Through her work these articles of faith, both secular and religious, challenge the rites and rights that accompany them. In "What Was Left" Cortes examines the incarnation of religious, cultural and political ideologies that shape our experiences as individuals and communities.
Witnesses to the influences of unquestioned conviction, her iconoclastic sculptures guide us through worlds of dogma and doctrine revealing the malleability of embodied beliefs—words made flesh and stone. Through a deconstruction of the architectural and ecclesiastical foundations upon which social constructs are built such as gender, race, ethics and status, Cortes explores the unsustainable utopian visions they can create. Exposing the reality behind unwavering systems of belief and collective behavior, her work is a profound testament to the fragility and vulnerability of society and its effect upon us.
Curator Christine Licata
THE COUPLE
2008, chairs, pearl necklaces, rings, knitting needles, glass beads, metal beads 48" x 36" x 22"
WITHOUT
2008, clay, string, 100" L x 80" W
SUSPENDED THOUGHTS
1999 - 2010, Frescoes, beaded rope, beaded clay sculptures, glass beads, chains, clay, wood, glass, 13' H x 3 1/2' Dia.
Esperanza Cortes's labor -intensive Sculptures are based on chains stitched from tiny glass beads. One piece, suspended From the ceiling and hung with handmade amulets and charms, has a dense but attenuated presence.
Holland Cotter
The New York Times
STILL LIFE
2008, glass beads on clay, bottle, mirrors, cow jaw bone silver ladle, compass, encaustic on wood, 20" h x 48" l x 24" d
ALTAR PARA LOS OLVIDOS
Clay, altar, beads, ribbons, 48" x 24" x 36"
Altar for the forgottenMemories - In the desire to become a citizen of the first world there is so much important personal and ancestral history that we shed in order acclimate to this culture, often giving up the best of ourselves.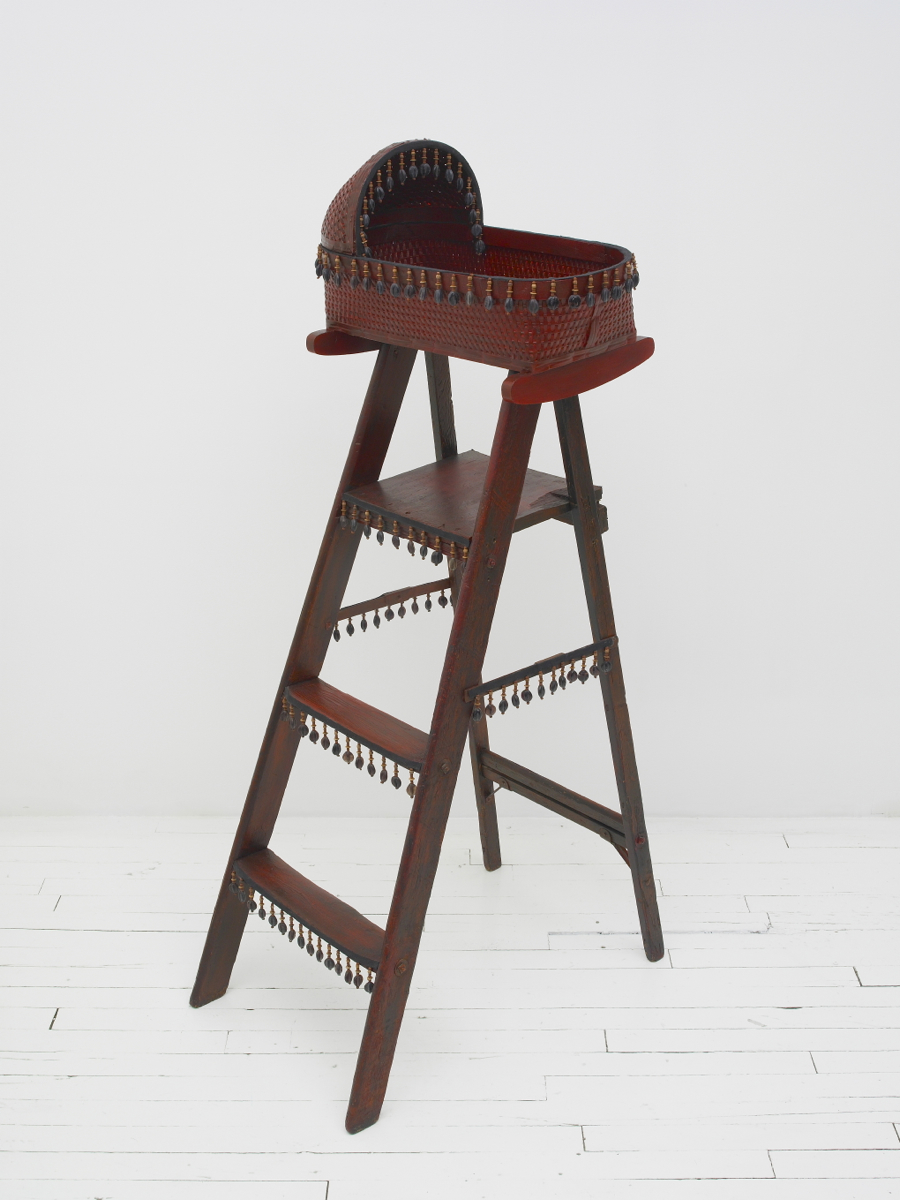 CRIB
Doll crib, ladder, ribbon, glass beads, pigment
60" H x 20" w x 28" D
NECKLACE
2009, glass beads on clay, mirror, base 44" diameterx 10" H
This installation is inspired by the obsession in our culture over beauty and plastic surgery. Loss of what is beauty.